Ummmm.

HOLY FREAKING HELL TONIGHT IS BREAKING DAWN.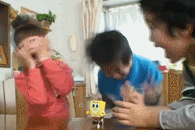 WHAT IS LIFE RIGHT NOW?
As I post this, the fabulous
@Sianria
is frosting our Breaking Dawn cupcakes in my kitchen (red velvet - you should basically be forever jealous) and I just finished our "broken headboards covered in feathers" toppers. We are rockstars. And in an hour, we will be leaving for the theatre for our 10pm showing. Again.
WHAT IS LIFE RIGHT NOW?
So I'm going to cut to the chase.
A year and a half ago, this was said on this very blog after I saw Eclipse for the first time.
truth
And now here we are only hours away from attending an epic wedding and crashing a hot sexy honeymoon in Brazil.
So I'm going to cut to the chase and post the LAST favourite photo from the Twilight Saga which was - I'm not shocked - sent in by SEVERAL of you.

Favorite Photos from the Twilight Saga

THE DAY
Ready?
and can I just add great minds think because @JRollin5 also sent this in as a joke
Without further ado - one of my favorite and obviously one of many of you follower's favorites - the last photo before tonight's Breaking Dawn.
UNF.
Why not from a few more angles?
UNF AGAIN
Sent in from
@JRollin5
@MyCleverAlias
and
@dizzy_ladybug
- you gals ROCK.
Alright everyone. GO ENJOY. We've waited our whole lives for this moment - well, sort of.
-Crystal