On the 6
th
day until Breaking Dawn - we were all exhausted from staying awake for what I can only describe as EPIC late night TV viewing.
You know what I'm talking about.
Kristen on Jimmy
Kimmel
. Rob on Jimmy Fallon.
And let me tell you. When Rob is on Jimmy Fallon - I basically die because as you all probably know, Jimmy Fallon is pretty much the love of my life and so if you put him with Rob, it's kind of an unstoppable freight train headed straight for my heart which results in an explosion of mass proportions.
So I was already out of
commission
following Jimmy's opening monologue as I always am because I love him madly - so naturally, when Rob came out looking like THIS:
UNF
Well obviously this happened:
KABOOM


And then Rob uttered perhaps the best line ever - of course with Jimmy beside him -
sooo
, dying as per usual.
" And now there's a placenta on the Crafts Service table."
Rob. WHY SO DAMN CUTE?
So that line + these two PLAYING TOGETHER:
Of course, Kristen on
Kimmel
was just the same dose of hotness but I'm not going to lie, I wasn't absolutely crazy about the interview. She seemed really on edge for some reason and while
Kimmel
was being fun and light - I dunno. I think at that point after the day she'd had, she wasn't feeling it.
And that's
ok
.
WHY?
Because she at least gave us THIS: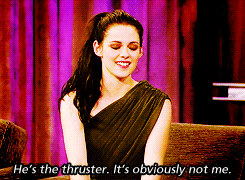 she also left me with a feeling of inadequacy in my hair length department
i want that ponytail
Oh and can I have these two children? Yes?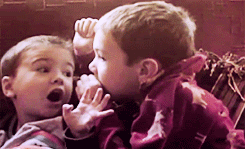 no really, I want these children
Alright.
TIME for today's photo pics!!!
Favorite Photos from the Twilight Saga
6 Day Countdown



Today's photo choice comes from @

JRollin

5
!! I have only recently really gotten to know J and she is one of our precious members of the fabulous
bookclub
I am a part of made up of a wicked crew of girls from Twitter. If you are not in this
bookclub
,
what is your life?
So here is one of J picks! Again, she sent in several and I
flove
her for this.
J sent in this photo as her favourite!


J was so distracted by Edward's hotness, she couldn't formulate a reason.



but I totally understand why.
edward
saving
bella
?
HEART SWELL
And for MY choice today, yet another, Twilight pic because let's face it, it's obvious which movie out of the Saga is my absolute favorite.


OK.
Tomorrow (Saturday) will be a post of several photos submitted from a bunch of you and not much ramble from me as I'm drafting it tonight to post it from the road (
I'm headed to my old university stomping grounds, Halifax, Nova

Scotia

for the day/night - expect epic tweeting
).
You have SIX days to send your photos to takemetobliss@gmail.com to be immortalized on this blog. Its kind of a
BFD
.