Every time I think this post might really not happen - it happens.
Could it be that after posting SEVEN consecutive Fridays in a row (minus that one time I posted on Saturday instead because of
internet
connection fail) that I just don't have it in me NOT to post?
Yeah. I kinda think
that's
it.
And you know what?
I kinda think
I love
these Friday posts....
So yeah. #
Letsdothis
#1 Like Crazy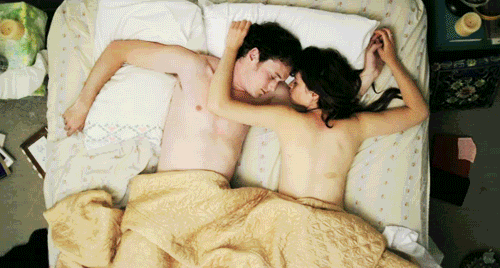 I kinda think I might madly be in love with this movie...
It's a known fact. I'm a sucker for
angsty
movies. Just like I'm a sucker for
angsty
fics
.
Angsty
books. And let's face it - my own love life tends to lean far more towards
angsty
than happy. Yet somewhere amongst all the angst - I'm actually kinda happy.
read: no, really - I am.
So when I clicked on a random link and stumbled upon this random trailer - it was TOTAL love at first sight.
Never mind
the fact that Ingrid
Michaelson
covering one of my favorite songs of all time playing in the background killed me. The chemistry between these two actors? WOW. When a trailer brings me on the verge of tears - yeah, I'm kinda sold.
#2 Ides of March
I love George
Clooney
. LOVE.HIM. Catch me in a common mood I get into and I would actually be caught saying if I could meet either George
Clooney
or Robert
Pattinson
- I'd pick George. No really - I have loved George
Clooney
since high school.
You know who else I love? Ryan Gosling. Any of you familiar with Breaker High? Probably not. It was a Canadian TV show that he was on when I was in JUNIOR HIGH.
SO when you combine GEORGE
CLOONEY
and RYAN GOSLING and put them in a movie? I basically die. And don't even get me started on how fucking down right awesome this movie looks beyond the fact that it's two leading stars are gorgeous. Do Not. Because I will not stop.
#3 Breaking Dawn - the ugliest poster that was ever printed
Cause this is a joke? Right?
RIGHT!!!!!??!?!?!?
the smart thing to do here would be to move on.
#4 Breaking Dawn Stills - that make up for shitty posters... kinda
It seriously
blows
my mind how grown up they look. I mean even Edward which isn't exactly suppose to happen but unless Summit had placed Rob in a freezer to maintain his youth (which I seriously wouldn't have put past them) it was bound to happen.
I love this shot. I really do. You wanna know why? Because unlike a lot of people who hate Elizabeth
Reaser
- I actually love her. And I loved her as Esme. And I felt how much she loved Edward and Bella. And so yeah - I LOVE the looks on ALL of their faces in this shot. And I really, especially, whole-
heartedly
love that I'm sure Elizabeth is thinking
'No really - you two need to get hitched for real. Like tomorrow.'
And she is not alone in this thought.
Yeah. Something about this shot does things to me. I sort of think it's because it REALLY reminds me of
MOTU
Edward & Bella. At the
Heathman
. Just a thought.
*runs away to read her copy of Fifty Shades*
[If you're shaking your head -
MOTU
= Master of the Universe which was basically the best
Fanfiction
in the universe until the amazing author got it published and it became Fifty Shades of Grey. You can buy it
HERE
It's pretty much a prized
possession
of mine.]
And LASTLY, as always - Best of
P I N T E R E S T
taken from my board found
HERE
You need to be weird.
Cause I'm a little weird.
In a totally cute, endearing kind of way
the moment I read this
I started crying.

Then tweeted @

kate

_

suena

the following

WHAT THE EVEN FUCK IS THIS MAKING ME CRY

because it hit hard. it hit HARD.
Fin.
[A/N: SO it is that time of year where I

disappear

and go on SUMMER

VACAY

. Yes. That time of year where the car is loaded with a cooler of goodies, beach towels, overnight bags, and in this year's case, PASSPORTS and OFF we go! We are headed to Grand

Manan

Island, which I wrote a post about including some pretty pictures LAST summer found HERE. And THEN we are heading to the UNITED STATES OF AMERICA to spend some time "

beaching in Maine

". Yeah. I really REALLY like the sounds of that. I also REALLY love that I'll be spending time vacationing by a pier that

bare's

major resemblance to my favorite pier in the world at my favorite place in the world - Santa Monica. SO. Next Friday - I will still be posting even though I'll be on

vacay

. It will be a special This Week in Photos dedicated to

VACAY

PHOTOS. Excited? You should be. Until then - have a wonderful weekend/week! - C xx]